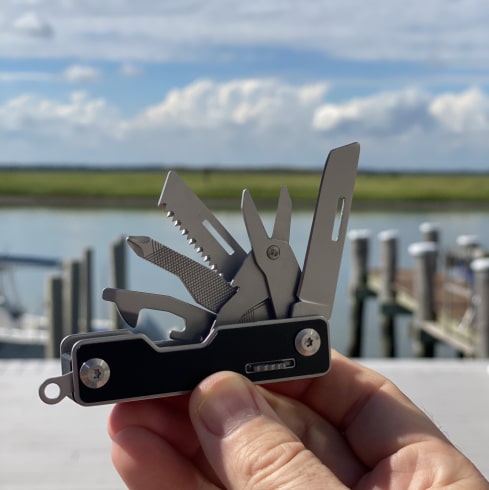 Pocket Eight Multi-Tool
Whether you're an ordinary driver or an experienced traveler, it's critically important to have a tool that can get you out of an emergency situation. But how to choose the one that will suit your needs perfectly? Well, look at the Pocket Eight Multi-Tool by Defiance Tools. It definitely deserves your particular attention!
Pocket Eight Multi-Tool
Versatile and practical multi-tool device
The multi-functional tool you need
It includes 8 components: saw blade, bottle opener, can opener, slotted screwdriver, Phillips screwdriver, nail file, scissors, and a knife.
Pocket-friendly shape
The Pocket Eight Multi-Tool by Defiance Tools folds up into a unique pocket-friendly shape which includes a key chain loop.
Easy to carry and store
The manufacturer paid particular attention to the tool's travelling-friendly size: closed size – 3″, open size – 5″, weight – 3 oz.
Super tough materials
It's made of super tough stainless steel and designed with a unique locking mechanism that locks each tool when it's in use.
Compact multi-tool device to take with you
It doesn't matter what a weatherman says, or what your action plan is, it's crucial not to be caught by surprise. This is exactly what Pocket Eight Multi-Tool is designed for!